Oskar Schindler's Grave | Life, Death & Final Resting Place
Contents
Oskar Schindler looked like an improbable candidate to become a wartime savior. He was an ambitious businessman with a passion for the better things in life. During WWII, however, Schindler saved over 1,000 Jews from being deported to Auschwitz, Nazi Germany's greatest concentration camp. Yad Vashem bestowed the title "Righteous Among the Nations" on Oskar Schindler in 1993 in memory of his valiant actions to save Jews during the Holocaust despite enormous personal danger. Read on to find out about the circumstances around Oskar Schindler's death and his grave.
Oskar Schindler Facts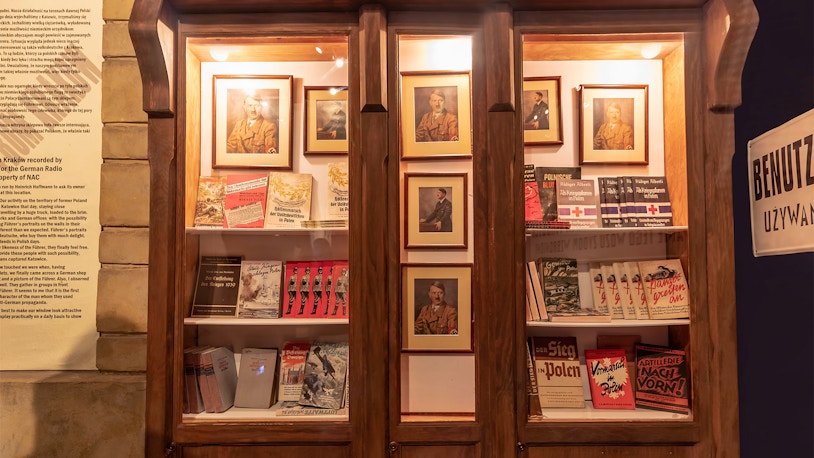 Born: April 28 1908
Died: October 9 1974
Occupation: Industrialist
Political Party: Nazi Party
Oskar Schindler's Grave: Mount Zion Roman Catholic Franciscan Cemetery, Jerusalem
Book Schindler's Factory Tickets and Tours
Skip-the-Line Combo: Wieliczka Salt Mine + Schindler's Factory
More details
How Did Oskar Schindler Die? Schindler had spent his whole fortune on bribery and illegal market purchases of provisions for his staff by the end of the war. He traveled to Regensburg and then Munich, almost destitute, but did not flourish in postwar Germany. In 1949, Schindler moved to Argentina, where he experimented with rearing chickens and later nutria (coypu), a small mammal kept for its fur. He left his wife and moved to Germany after the company went bankrupt in 1958, where he had a succession of failed business enterprises, such as a cement factory. He filed for bankruptcy in 1963 and had a heart attack the following year, resulting in a month in the hospital. Schindler survived on money sent by Schindlerjuden from all over the world, keeping in touch with many of the Jews he met during the war, notably Stern and Pfefferberg. On October 9, 1974, he died of liver failure. He is the only person of the Nazi Party to be honored by being buried on Mount Zion in Jerusalem. On May 8, 1962, Yad Vashem honored Schindler with a service in which a carob tree was placed in his honor on the Avenue of the Righteous in recognition of his wartime labor. Even to this date, Oskar Schindler's contribution and legacy are remembered fondly amidst the grim memoirs of the holocaust.
Where Is Oskar Schindler's Grave? Oskar Schindler is responsible for saving the lives of 1,200 Jews by engaging them at his enamelware and ammunition businesses in seized Poland and the Protectorate of Bohemia and Moravia during the Holocaust. Initially motivated by profit, Schindler learned to see through the Nazi ideology and acknowledged the plight of the Jews. He leveraged his position to save numerous lives and was honored with a burial ground atop Mount Zion in Jerusalem.  The Hebrew inscription on his grave reads, "Righteous Among the Nations" and the German inscription reads, "The Unforgettable Lifesaver of 1200 Persecuted Jews". On June 24, 1993, Oskar Schindler and his wife, Emilie, were declared Righteous Among the Nations, a distinction given by the State of Israel to non-Jews who actively participated in the rescue of Jews during the Holocaust. He was the subject of the 1982 novel Schindler's Ark and the 1993 film adaptation Schindler's List, both of which depicted his life as a profit-driven hustler who eventually demonstrated great initiative, perseverance, courage, and commitment to save the lives of his Jewish laborers. Artifacts relevant to Oskar Schindler's fearless act are valued highly to this day. In the attic of Ami and Heinrich Staehr's Hildesheim flat in 1997, a bag belonging to Schindler was unearthed, including historic photographs and documents. Workers searching through boxes of material obtained by author Thomas Keneally uncovered a carbon duplicate of one variation of the list at the State Library of New South Wales in early April 2009.
Frequently Asked Questions About Oskar Schindler's Grave
Q. Where is Oskar Schindler's grave?
A. Oskar Schindler's grave is at Mount Zion Roman Catholic Franciscan Cemetery in Jerusalem.
Q. How did Oskar Schindler die?
A. Oskar Schindler died of liver failure on October 9, 1974. He is the sole member of the Nazi Party who has been buried on Jerusalem's Mount Zion.
Q. What happened to Oscar Schindler after the war?
A. After the war, Oskar Schindler had to leave Germany for Switzerland to avoid being captured by the Red Army. He then claimed reimbursement for his wartime expenditure. Later on, he emigrated to Argentina and started several businesses, all of which failed. He filed for bankruptcy in 1963.
Q. What is Schindler's Factory?
A. Schindler's Factory is an enamelware and later ammunition factory that Oskar Schindler used as a cover-up to shelter over a thousand Jews from the Nazi regime.
Q. What did Oskar Schindler do?
A. During the Holocaust, Oskar Schindler, a German industrialist and member of the Nazi Party, is credited with saving the lives of 1,200 Jews by employing them in his enamelware and ammunition enterprises in occupied Poland and the Protectorate of Bohemia and Moravia.
Q. Can I visit Oskar Schindler's factory?